Needham B. Broughton High School, home of the Capitals, is a 4A school located in the heart of Raleigh, N.C. Last year the women's basketball team, the Lady Caps, made it to the fourth round of the state playoffs, where they lost to their main rival, Millbrook High School. The Lady Caps entered this season with a determination to go all the way. With a Cap Eight conference record of 13-1, the Lady Caps seemed to be on track. Yet, the story of the Lady Caps isn't one simply based on numbers and statistics. Instead, their story is one of determination, passion, and friendship.
Teammates and friends, Kaila Ealey and Mariah Wall dance before the start of a game.
Lady Cap's Mariah Wall (25) struggles to catch the ball as Athens Drive's Grace Hunter (24) knocks the ball out of bounds. The Lady Caps recovered to win 80-73.
"It's always like this," said Jessica Willets. "We are pumped when we get on the bus, but it quiets down as everyone starts to focus."
Junior Josie Rouse jokes with fellow junior Lizzie Mann, while senior Dejah Cheatham listens to music to clear her mind.
Before they even take the court, the Lady Caps believe they can win. With this mindset, they will play with confidence. Gathering around senior Dreamer Crawford, they get pumped for the second round of playoffs and their game against Hillside High School.
"We just have to play smart," says Coach Brad McCorkle before the start of the game. "This game isn't just about winning. It's also about what life lessons the game of basketball can teach you."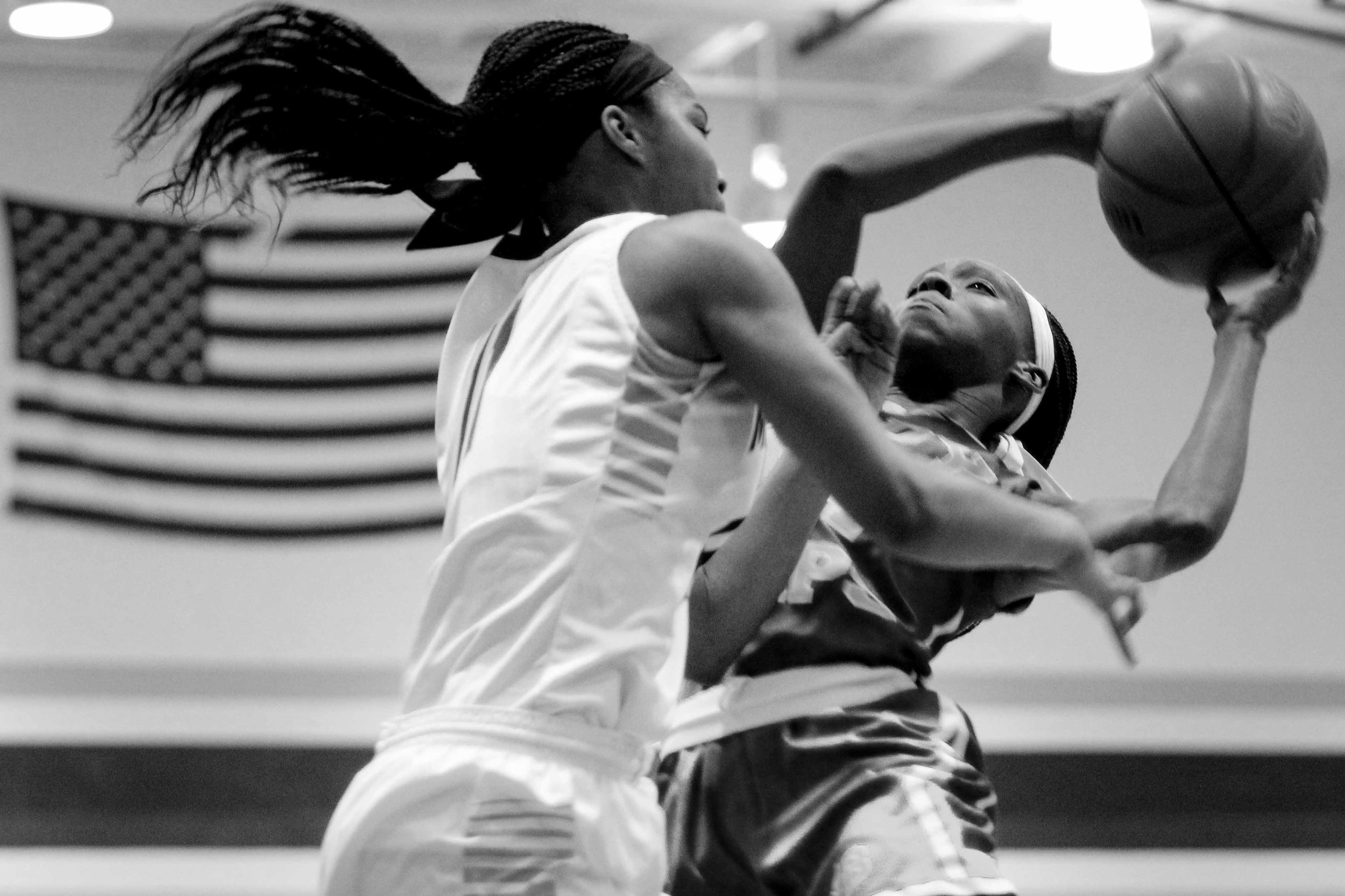 Junior point guard Kaila Ealey (14) has proved to be a vital part of the Lady Cap's success. Despite efforts, the Hillside Hornets quickly ran up the score.
The Lady Caps fell to the Hillside Hornets 90-64 in the second round of the playoffs.
Coach McCorkle feels every loss acutely. Although he doesn't coach full time, he spends all of his free time devoted to the Lady Caps. Before important games, he often texts his assistant coaches late into the night with last minute game strategies.
As the buzzer sounds, senior Dreamer Crawford realizes this is her last time wearing the Broughton uniform.
"Thank you to our seniors for all that you have given to this program. We will miss you," said Coach McCorkle after the game. "But to everyone else, there is next year where we can just try harder."